Upcoming Changes for MyTax Illinois
News – Tuesday, July 27, 2021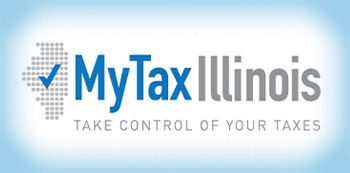 Coming September 2021, the Illinois Department of Revenue will unveil a new, streamlined look to MyTax Illinois. MyTax Illinois is our free online account management program that offers a centralized location for individuals and businesses to register for taxes, file returns, make payments, and manage their tax accounts.
What's Changing
The overall look and feel of MyTax Illinois will be changing. The new format features a mobile friendly format intended to improve the ease of use for all users.
The Homepage
With more white space, the MyTax Illinois homepage now has panels that stack based on screen size, and a search feature that filters the panels so finding what you need is faster than ever.
Logged-In Users
The work you do in MyTax Illinois has been reorganized into three main sections:
Summary, Action Center, and More.
From the Summary tab you can drill down into your separate accounts, file returns, make payments, and more. The Summary tab shows all accounts and balances. It also has links based on account type for activities such as filing returns, making payments, and other actions.
The Action Center highlights things that need attention, such as returns that are due to be filed or letters and messages received from us.
The More... section contains other miscellaneous actions you can take in the system. Examples include granting a third party (like a tax preparer) access to your accounts, adding access to other tax types you are responsible for, updating names and addresses associated with your account, and viewing letters and messages sent to you.
You can navigate MyTax Illinois using a keyword search that allows users to filter results to find the appropriate function.
MyTax Illinois also features a new two-step verification security feature to ensure your account information remains safe from unauthorized users.
 
Illinois Department of Employment Security (IDES)
The biggest changes for Unemployment Insurance (UI) users of MyTax Illinois
UI accounts are listed under the Summary tab in its own panel with hyperlinks to perform certain common actions (i.e., Make a Payment, File a Return/Wage Report, or Request a Refund) immediately upon login.
Users with many accounts in MyTax Illinois can enter "unemployment insurance" in the filter bar to select their UI accounts, without needing to scroll through the complete list.
Additional UI actions can be accessed from the Summary panel by clicking View all account options.
Service bureaus can use the Action Center tab at login to perform certain actions or filter down to access specific UI accounts.
MyTax Illinois Home Screen
Anyone needing to register with IDES or IDOR can do so from the Register panel by clicking "Register a New Business (Form REG-1)."
Service bureaus needing to register with IDES can do so from the IDES panel by clicking "Register as a Service Bureau (IDES only)."
Tabs shown at login
The Action Center tab displays items of immediate concern, such as unread letters or outstanding actions that must be performed and includes direct links to perform actions.
The More tab displays numerous actions for a UI filer to manage its account, as well as other actions specific to service bureaus.
The Settings tab allows users to change certain UI account options, including changing their UI mail status to paperless delivery.